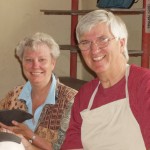 Already in love with clay, Rick and Jetty met in 1971 and fell in love with each other.  They work together in their studio on forms thrown on the wheel by Rick and hand-built items by Jetty.  They market their pottery under the name of Mud Daubers' Pottery, after that industrious wasp that fashions its nest in the shape of a cylindrical tube from clay.
Their goal is to enjoy the art of creating while exploring textures and shapes, and share these experiences with friends and family.  "Opening up the kiln is just like Christmas," says Rick.  "After 12 hours of firing to 2350 degrees and a 24 hour cool down, you never know what you're going to get when you open the door.  Each piece is unique and has a story to tell.  The final step of presenting it to the public and finding it an appreciative home is always rewarding as well as fun."
In addition to high fired porcelain functional ware, the Uebners also like to use their raku kiln, following the ancient tradition of the Japanese of this quick firing.  They create a colorful variety of ceramic art from bowls to platters to tile murals and sculpture.
Rick received his B.A. from Knox College, in Illinois in 1967 and then spent two years in Colombia, South America with the Peace Corps.  The experiences and friends he made there changed his life and his direction.  When he returned to the U.S. via a motorcycle ride from Panama to L.A. with his Peace Corp partner, he got his teaching credential and began to study clay with Bruce MacDougal in Santa Cruz.
After Jetty graduated from San Jose State with a minor in art and got her teaching credential they married and opened a pottery shop in the Sierra Nevada foothills of California near Yosemite.  They built their dome home in the country and raised a garden of vegetables and two children, Alison and Ryan.
Jetty's recent work represents local landscapes made from handmade ceramic tiles which are fired once and then painted with several layers of undercoat glazes, which are then carved through to reveal other colors. 
"Art should make you stop, want to look deeper, and make you think.  My work in landscapes tricks the eye and the brain to see things that do not exist.  Simple lines can create movement, mathematical relationships create dimension.  I am also influenced by the reality that many colors make up a seemingly one-color landscape, not only by what we see but also from what lies beneath.  I am fascinated by how water in the form of snow pack, cascades from waterfalls, forms into rivers, plus travels underground in fissures through the rocks to sustain the many forms of life at all levels." says Jetty.
The Uebners are mostly self-taught over the last 40 years of working with clay and take their inspiration from the landscapes, hills, mountains, wildflowers, and grass fields.  They continue learning about clay though workshops and traveling nationally and internationally.  Their ceramic work is in collections throughout the United States, as well as Europe, South America and Asia.